Exhibition view of Pauline Curnier Jardin,
Fat to Ashes

at Hamburger Bahnhof, Staatliche Museen zu Berlin, Nationalgalerie, Berlin. Picture courtesy of Staatliche Museen zu Berlin, Nationalgalerie / Mathias Völzke

 
Pauline Curnier Jardin
Enquiries into Deviance
Ellen de Bruijne PROJECTS presents Pauline Curnier Jardin (Marseille, 1980). Her artistic practice resists any attempt of being tamed. When interrogated about her creative process, the artist's mind becomes a turning kaleidoscope of grotesque characters, euphoric feelings, folkloric imagery, and contemporary transpositions of myths. Pauline Curnier Jardin's work, across installation, performance, film, and drawing, is a voracious embodiment of the marginal within the society of spectacle.
Pauline Curnier Jardin is the winner of the 2019 Preis der Nationalgalerie and recipient of the 2019/2020 Villa Medici Residency in Rome and the 2021 Villa Romana Fellows in Florence. She was the winner of the Dutch prize NN Award (2018) and laureate of the Prix Fondation d'Entreprise Ricard (2017).
Upcoming shows include solo shows at LIAF 2022, Casa di Reclusione Femminile Giudecca, Venice, during La Biennale de Venezia, CRAC Occitanie, and FRAC Corsica in 2022, and at Centraal Museum Utrecht in 2023.
Portfolio Pauline Curnier Jardin
4.85 MB
Pauline Curnier Jardin ©Palma Llopis
Grotta Profunda Approfundita
In 1858, a sickly and undernourished child, Bernadette Soubirous (Maria Bernada Sobeirons) had a vision whilst gathering firewood near the grotto of Massabielle in Lourdes. She claimed she saw "that" and that "that" was similar to a 12 year-old child, slightly younger than herself, slightly smaller than herself. After a long process, mediated by individual (Bernardette's aunt) and collective agents (the Church, the local institutions), the vision was identified as the Virgin Mary.
In Curnier Jardin's film installation Grotta Profunda, les humeurs du gouffre (Grotta Profunda, the moody chasms, 2011) Bernadette has another vision. Bernadette is now a young man in drag, and follows the vision into the grotto, touching its rocky, muddy walls. Bernadette esperiences a mixture of sexual ecstasy and agonizing pain. In this semi-uncoinscious state, an entire extravagant cosmogony intends to educate her on questions of the origin of humanity.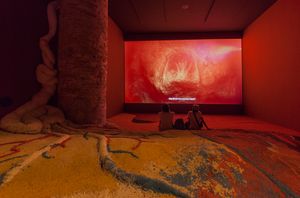 Grotta Profunda Aproffundita.

Exhibition view of Viva Arte Viva, Arsenale, 57th International Venice Biennale, Venice, IT. Pictures by Daniele Zoiko.

 

 
The Resurrection Plot
Through a series of singing tableaux vivants drawn from a wealth of historic and anachronistic sources as diverse as witchcraft, voguing, and the animal kingdom, the artist pays tribute to Renaissance dark sides and "misfits," among them painter Giuseppe Arcimboldo, ceramicist Bernard Palissy, and writer François Rabelais.
Curnier Jardin creates an eccentric "Gesamtkunstwerk" that reconsiders the Renaissance from a subversive perspective, challenging the figure of the "Renaissance White Man" and its conquering hubris, and plays with the invention of a body mutation during the Renaissance.
Produced by Performa in association with Lafayette Anticipation – Fondation d'entreprise Galeries Lafayette, Paris.
Pauline Curnier Jardin,
The Resurrection Plot

, 2015 (excerpt)

 

 
The Resurrection Puddle
In her Resurrection Plot the artist plays with the period's emphasis on renewal, revival, and regeneration, and invites snails, cicadas, lizards, and snakes – all animals with the ability to don new skins throughout their lives – to join the dance.
The work was ignited by the artist's fascination for the anatomical theaters that appeared in the fifteenth century and the era's desire to enter and demystify the human body.
Installation views of Pauline Curnier Jardin,
The Resurrection Puddle

, 2015, at Rijksakademie, Amsterdam. Pictures by Gert-Jan van Rooij.

 
"The grotesque and the primitive that is encapsulated in every motion of our life is always ready to explode. I am a thwarted anthropologist, a wanna-be witch, a profane devotee, a poet and a butcher."
Explosion Ma Baby
Pauline Curnier Jardin,
Explosion Ma Baby

, 2016 (excerpt).

 

Catholic festivals are often on the extravagant side, but the annual procession in honor of Saint Sebastian captured by Pauline Curnier Jardin is at the extreme end of the spectrum. When the statue of the saint is carried out of the church, the crowd bursts into song, fireworks erupt and confetti cannons color the sky red, yellow and green. Strong men hold up naked babies to Saint Sebastian, clad in his loincloth. The babies wear strings of banknotes around their necks as an offering to the saint.

 

Curnier Jardin became fascinated by the pagan and unusual mood of this event. Over several years, she filmed with a simple super 8 camera, and the digital enlargement and low angle create a dreamlike, almost trancelike atmosphere. A specially composed drum solo combines with ambient sound. The result is a condensed yet magnified account of a ritual in which a boisterous present connects with ancient belief.

 

 

 

 
Peaux de Dame
Flat and soft women, that could be rolled and stored, heap up, throw to dress up a tired furniture, slip like a suit, pin on the wall like a pin-up. Creeping ladies, amorphous, nice, skin dull color and shiny but not untouched. Women who swear nowhere, hunting trophies, probably conquered, consumed and exhibited. A life would have marked them, even gave them a look, big eyes, a gutted animal life.
Exhibition views of
Tattoo Sospir

, Villa Santo Sospir, Saint-Jean-Cap-Ferrat, FR, 30 April – 1 June 2018. Pictures by Anna Reutinger.

 

 
Qu'un sang impur
Qu'un Sang Impur began as a loose remake of Jean Genet's "Un Chant d'Amour" (1950), a homoerotic love story between inmates in a prison, under the yearning watch of a sadistic prison guard.
In Curnier Jardin's film, shiny young male bodies are replaced with post-menopausal women, who celebrate their erotic power after shedding the patriarchal construct which places them 'of the market'(as author Virginie Despentes would say). Having escaped the endless reproductive loop, the artist ascribes a special power to this stage in a woman's life, uncoupled from being an object of desire. In their moment of need, they bleed again.
Pauline Curnier Jardin,
Qu'un Sang Impur

in Ladies Skins in the Hot Flashes Forest

, 2019, Preis der Nationalgalerie, Berlin, 2019 +

Qu'un Sang Impur

film stills. Pictures by Luca Girardini.

 

 
Fat to Ashes
Preis der national Galerie, Hamburger Bahnhof – Museum für Gegenwart, Berlin, April-September 2021
After winning the Preis der Nationalgalerie 2019, Pauline Curnier Jardin presented a solo show at Hamburger Bahnhof, Berlin, consisting of the extensive video installation Fat to Ashes. The exhibition centers on the filmic work, which combines three storylines: a religious festival in honor of St. Agatha, the slaughter of a pig, and the Carnival of Cologne.
Pauline Curnier Jardin,
Fat to Ashes

, 2021 (excerpt).
The spectacle centers on the film inside an imposing, spacious arena right in the middle of the museum. Reminiscent of Rome's Colosseum, the arena rises up to a great height like a set. Rather than being built of solid brickwork, the walls of the arena are porous. Seen from a distance the arena looks like a huge cake, with a facade made of marzipan.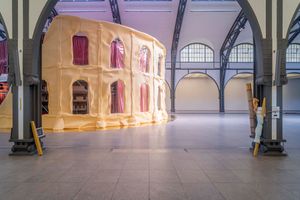 Pauline Curnier Jardin,
Fat to Ashes

installation. Pictures courtesy of Staatliche Museen zu Berlin, Nationalgalerie / Mathias Völzke
The installation "Feel Good" is located in the columned arcade on the left side of the museum's Historische Halle. Church loudspeakers, decorated with large candles that were blessed in Sicily, are mounted onto the columns and pour forth a soundtrack made up of cliking high heels and the swoosh of traffic. Together with drawings the artist commissioned sex workers to make that illustrate their life realities, they pay tribute to a group that has been ignored by the state and its politicians – not for the first time but during pandemic with a vengeance.
A catalogue for Fat to Ashes is available on Buchhandlug Walther König's website.
Pauline Curnier Jardin & Feel Good Cooperative,
Feel Good

– Drawings: Alexandra Lopez, Andrea, Alexandra Mapuchina, Gilda Star, Giuliana (made in Rome, June 2020), Sound design: Antonio Gianantonio, Blessing: Candles blessed in Catania by Padre Don Domenico on the 4th of March 2021. Pictures courtesy of Staatliche Museen zu Berlin, Nationalgalerie / Mathias Völzke
Quarantena Italiana
The artist made this series of works during quarantine times in Italy, when she was a resident at Villa Medici, Rome. The drawings explore intimacy, family, and desire, with nods to ongoing projects by the artist, specially her solo exhibition Fat to Ashes at Hamburger Bahnhof, Berlin.
Fireflies (Lucciole)
"Fireflies" is a collaborative meditation on liminal spaces and desire. The film was developed together with the sex workers from the Feel Good Cooperative in Rome, which was co-initiated by the artist in an effort to provide financial assistance to sex workers during the pandemic. It was shot on the margins of the ancient imperial city. Long ago, there used to be fireflies there. Today, the headlights of cars act like searchlights, while suitors spot sex workers through erratic flashes of light. They in turn may be lit up by a flashlight directed at their invisible bodies, a brazier or little bonfire. In this instant, the mostly trans sex workers working and performing there are themselves reminiscent of fireflies.
Pauline Curnier Jardin,
Fireflies (Lucciole)

, film stills.
At the centre of Pauline Curnier Jardin's practice stands the refusal to identify with the masks and markers of violence and the categories and genres of visibility and narratability that sustain and naturalize this violence. Her works animate lived solidarity with violations and subjections, but even more so, with vivid and perpetual rebellions against the total framework of life's subjection.
Words by Anselm Franke
Ellen de Bruijne PROJECTS
Singel 372, Amsterdam
info@edbprojects.com
edbprojects.com