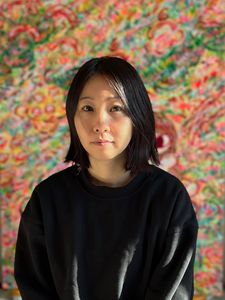 AYAKO ROKKAKU | KÖNIG LONDON
LONDON GALLERY WEEKEND 2022
Exhibition Opening: Thursday 12 May 2022
Exhibition Dates: 12 May - 11 June 2022
Ayako Rokkaku (b. 1982 in Chiba, Japan) lives between Berlin, Porto, and Amsterdam. She has had solo exhibitions at international institutions including Chiba Prefectural Museum of Art, Japan (2020); Museum Jan van der Togt, Amstelveen, The Netherlands (2019); Danubiana Meulensteen Art Museum, Bratislava, Slovakia (2012); and Kunsthal, Rotterdam, The Netherlands (2011). In 2015, she showed her work at the Swatch Art Pavilion at the 56th Venice Biennale. Works by the artist are part of the collections of Danubiana Meulensteen Art Museum, Voorlinden Museum, Gunma Museum of Art, Sehwa Museum of Art/Sehwa Art and Culture Foundation, and Museum of Contemporary Art, Karuiuzawa.
Ayako Rokkaku, Installation, acrylic on wood, Chiba Prefectural Museum of Art Chiba, Japan, 2020
Rokkaku creates her paintings through intuitive, performative acts where acrylic paint is applied to the canvas by hand, transferring the movement of the artist's body onto the canvas. Her visual language oscillates between abstraction and figuration, informed by the style of the kawaii culture.