Mangelos deinstalling the exhibition
Shid Theory

(Podroom, Zagreb, Croatia, 1978)
Mangelos (1921 – 1987)
Mangelos, born Dimitrije Bašičević in 1921, was a Yugoslavian art historian. Known in the early post-war period as a prominent art critic, he took a particular interest in abstract and naïve art. As a curator at the Galleries of the City of Zagreb (now Museum of Contemporary Art) he promoted conceptual, post-conceptual and media artists of the 1970s. Less publicly, he also worked as an artist under the pseudonym Mangelos, and was a member of the neo-avant-garde group Gorgona (1959 – 1966). He worked in series, including Paysages de la mort and Paysages de la guerre, Tabula rasa, Alphabet, Nostories, Graphs, Negation de la peinture, Pythagoras, and Manifestos, all meditating on eponymous themes. Word-images in various languages recur in his art on a range of three-dimensional materials, such as wooden boards, paper, books, and globes. He began exhibiting his own art in the late 1960s, encouraged by the then younger critics and artists of the "New Art Practice." Since then, his works have been exhibited at major international museums including The Museum of Modern Art, Carnegie Museum of Art, Tate Modern, and The Centre Pompidou.
Installation view: Peter Freeman, Inc., New York.
From Scratch: Mangelos, Julije Knifer, Július Koller, Mladen Stilinović,
& Goran Trbuljak

, curated by Branka Stipančić. (3 March - 16 April 2022)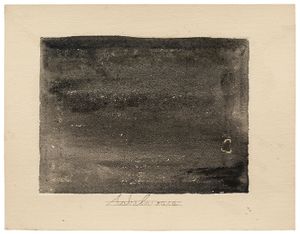 Ten examples from the series:
Tabula rasa, m. 5

(1951–1956), tempera on cardboard

 

As a youth, Mangelos experienced World War II, occupation, violence, poverty, and moral collapse. Writing about the beginning of his artistic career in "The Introduction to No-Art" (1979), he explained that his "no-art" evolved from The Landscapes of Death – black stains signifying the absence of the deceased, his friends and relatives – that he recorded in his school notebooks during the war. Years later, he transformed "these black rectangles, these black graves" into something else: Tabula Rasa, and variations on this form depicting letters, triangles, words, and concise thoughts. Tabula Rasa, a metaphor for a new beginning, became the foundation upon which reason rules. For Mangelos, this entails learning how to spell, write letters, and combine them into words like in school, and to invoke Pythagoras who emphasized the rational aspect of human thought and harmony in art.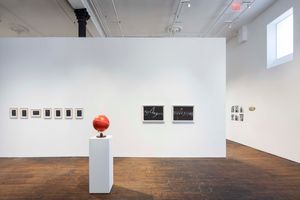 Installation view: Peter Freeman, Inc., New York.
From Scratch

. The exhibited globe, with "energy" flowing along the equator
in different languages and scripts, is a metaphor for the world and its operating forces.
Eleven examples from the series:
Alphabet A-W, m. 5 – m. 6

(1951–1963), tempera on printed paper

 

 
Six examples of
Glagoljsko slovo [Glagolitic letter], m. 5

(1951–1956), tempera on canvas over cardboard book cover
Written word became an important vehicle for Mangelos's "no-art" theme, as a means to redirect the process of looking away from the emotional toward thought and function. In his book Pismo [Scripture], which has more than 200 pages, he meticulously inscribed all the letters of various alphabets – Greek, Latin, Glagolitic, Cyrillic, Runic – geometrizing, rearranging, and representing them in the triad of red, black, and white, with a refined sense of line, clean contrasts, and composition. Despite the undeniable visual quality of these works, Mangelos acknowledged that by painting letters he negated painting as such: "Negate the picture by writing it with words. Negate the word by painting it."
Pismo [Scripture]

, 1949, painted book: tempera on printed paper, perfect-bound in canvas-covered cardboard covers

 
Video of
Alfabet (gl.)

, 1952, painted booklet: tempera on printed paper, staple-bound in cardboard covers
Peter Freeman, Inc. has represented Mangelos for 24 years. In 1998, the gallery presented the very first exhibition of the work in both America and in England (at Anthony D'Offay Gallery), and over the past two decades has been dedicated to integrating the work of Mangelos, previously widely unknown, into a world-wide critical dialogue. Since 1998, the gallery has presented three additional solo exhibitions of Mangelos's work. On the occasion of the 2012 exhibition, dedicated to his work on Pythagoras, the gallery published a fully-illustrated catalogue with an essay by exhibition curator Branka Stipančić, boxed together with a facsimile edition of a rare painted book, Pythagora 2 (1953), a small art monograph which Mangelos selected then obscured its contents with his own work painted in tempera. The 2016 exhibition, curated by Francois Piron, focused on the exhibitons of his own work that Mangelos organized within his lifetime. Mangelos's work is currently featured in the group exhibition From Scratch: Mangelos, Julije Knifer, Július Koller, Mladen Stilinović, & Goran Trbuljak, curated by Branka Stipančić, which is on view until 16 April 2022.
Installation views of solo Mangelos exhibitions at Peter Freeman since 1998. 1.
Mangelos: a retrospective of exhibitions 1972-1981

, curated by François Piron (14 April – 27 May 2016); 2.

Mangelos: Pythagoras

, curated by Branka Stipančić (12 April – 25 May 2012); 3.

Mangelos: Les lettres et les mots

, curated by Branka Stipančić (28 April – 30 July 2005);
4 & 5.
Mangelos

(25 March – 16 May 1998).