Ana Navas,
Patterns

, 2021, Fondation Fiminco Paris, photo: Romain Darnaud

 

 
Sperling presenting Ana Navas
Ana Navas: "In general, my work is triggered by how art pieces and past art movements have an influence and circulate outside their own context."
Ana Navas, I had to think of you (Urban), installation view, Stadtgalerie Sindelfingen, 2017, photo: Henning Krause
About Ana Navas:
Born in Ecuador (1984) but immigrated to Venezuela at an early age, Ana Navas is a nomad. Her references are abundant, her works often deceiving as they juggle with the languages of modern art turned kitsch, and of contemporary art turned the lingua franca of global marketing. Hiding beneath mysterious surfaces and provocative forms is a carefully constructed imaginary that resonates beyond geographies one that questions our own stance on this hyper aesthetization we've become so accustomed to, so versed in. (Marisol Rodríguez on Ana Navas)
Patterns and Dress Ups
Ana Navas: "My first and main idea was to make costumes that their recipients (being art pieces in museums) could never wear, partly as an imagination exercise. However looking closely at their images, analyzing their shapes in order to translate them to textiles and paying attention to their silhouettes made me even more aware in daily situations of products and packaging that were similar to the formal vocabulary I was working with in the studio."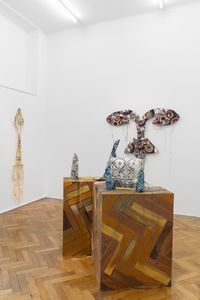 Ana Navas, Bleistiftbart (negativ), 2021, Industrial textiles and copies of the patterns painted by hand, 70 x 18 cm
Patterns and Dress-Ups are two series of prints on fabric and textile sculptures by Ana Navas started in 2020 that deal with the residues of the doctrines of art and design and the reminiscences of modernism. These second skins of objects such as plastic bottles, ergonomic mops, baby seats, or a sculpture by Jean Arp are presented three-dimensionally, dressing the original object, or hanging flatly on the wall as if they were Rorschach cards, letting us each see something different. They are made from industrial textiles that depart from the art historical canon and culturally specific techniques (Kandinsky's late abstractionism, Japanese tie-dye) and to which careful copying is added through the hands of the artist.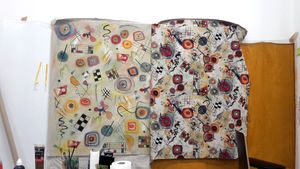 Ana Navas in her studio, Paris 2021, photo: Berke Gold
Plates
Ana Navas: I like the idea of ​​the plates as a format to share my references and inspiring scenes; different forms of displays like sculptures' and children's parks, souvenir shops, museums and, in general, different ways to understand and order objects. And I confess the isolation of the pandemic has also done its thing in finding concentration and pleasure in carefully painting well-known scenes from the outside world.
Ana Navas, Fashion Shop, 2022, plastic plate, bijouterie, cloth, acrylic, Ø 22 cm
Ana Navas series Plates is reminiscent of miniature paintings that were widely used from the 17th century onwards to design objects such as jewelry boxes. These paintings on plastic plates or bowls reveal the aesthetic universe, in which Ana Navas feels at home. They are populated with things that surround the artist's life. Primarily created during the pandemic, they act as a kind of atlas into which the collected traces of our material world flow. They bring together different temporalities in one scene that integrates not only pasts but also futures of objects – paving a very unique way to connect art and life.
Ana Navas: I ask myself, from a visual point, how an experience is created and I trace back the use of aesthetics of past art movements as, for example, modernism for this purpose; how does this (re)reading, (re)use and (re)interpretation of a movement contributes to the creation of a certain experience and which new associations are awaked through it?
Luisa Heese's text about Ana Navas' current exhibition at Sperling
The desire to combine art and life has had a continuous tradition at least since classical modernism. It was particularly cultivated by the post-war avant-garde: in the 1960s, the idea of the open work of art established itself in the sense of activating the viewer and completing the work by involving the audience in media art and happenings. Joseph Beuys developed the idea of social sculpture at that time to create a space in which participation could take place. At the turn of the millennium, this idea of integrating art and life was taken further by the principle of "relational aesthetics".
The works of Ana Navas set the framework in which the connection of art and life can be thought even further. In her work, she does not start from the idea of the original work of art but explores the constant transformations of aesthetic ideas, forms, and images. Art and life meet not primarily in the completion of the work through the involvement of the viewer, but in the afterlife of artworks – through appropriation and translation of the formal and visual languages that permeate our daily lives. Navas observes these transformations, seizes upon them, and ultimately engages in them herself. She points out the cannibalism of images and forms, the incorporation and recomposition of aesthetic signs from the reservoir of modernity. Thus, in her aesthetic universe, mass-produced household goods meet hand-formed objects, modernist formal vocabulary meets mundane materials, DIY techniques meet oil painting. By bringing these different dimensions together, she questions the relationship between art and everyday life, design, and sculpture, and even between original and copy in a way that is both precise and humorous.
Zigzag & other Ws is on view through April 30.
Ana Navas_Zigzag & other Ws_Sperling_Portfolio.pdf
1.73 MB
Please visit our website or send an email for more information about Ana Navas.
We highly recommend the second issue of our online magazine Volumes; an in depth conversation between Ana Navas and Marisol Rodríguez
Available works by Ana Navas: