ADRIANA BUSTOS
Images as tools for revisiting history
Adriana Bustos is interested in the way historical knowledge is constructed. Through her work juxtaposing images and webs of references she aims to help build a non-linear critical view of the past and its articulation with the present.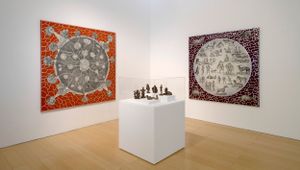 Rethinking Nature

, installation view, Museo Madre, Napoli, Italy, 2022

 

 

Adriana Bustos (B. 1965, Bahia Blanca, Argentina), a multidisciplinary artist based in Buenos Aires, has developed an ambitious body of work based on an investigative approach: history, as incarnated in images, is her source material. She finds images loaded with condensed meanings and juxtaposes them in her laborious drawings to effect a rethinking of social, political and cultural phenomena and the way they have been told in historical narratives. Colonialism and its effects have been a central focus of her attention.

 

Detailed drawing is at the core of her art-making, an alchemy through which the images' energetic load is reset when filtered by the artist's eye and hand.

 

 

 

 

Bestiario de Indias (Bestiaries of Indies) stems from the images and stories of the first European chroniclers who arrived in what became known as the Americas. The representations and descriptions they developed show them immersed in a hallucinatory world of dreams in which men and women, plants and flowers, stones and landscapes merge into enigmas that hide and reveal the desires, fantasies, and terrors of humanity. In this work, Bustos quotes those fantastic beings which represent the colonial imaginary.

 

 
"History generates models of meaning that anchor our present in a series of truths. But despite of this, history contains in its structure empty spaces, contradictions, chimeras, places of reverie, unconscious territories and hallucinations. Searching for these cracks involves shaking up pre-existing and known patterns of connection and rearranging information into new patterns."
- Adriana Bustos
The work Fires is in dialogue with a print by Athanasius Kircher a German scholar born in 1602. His greatest scientific contribution was the observation of the relationships between different geological processes, which he defined as Geocosmos. For him, the Earth was an organism with a stony skeleton formed by mountain ranges and a central nucleus of fire connected through large underground cavities. He as possibly the first scholar to underscore the inter-connectedness of earthly processes and beings.
Adriana Bustos is currently participating in the exhibition Rethinking Nature, at MADRE Museum in Naples, Italy, curated by Kathryn Weir and Ilaria Conti. We thank the Museum for this video interview with the artist produced on the occasion of this show. More information
Paisaje peregrino,

Museo Moderno, Buenos Aires, Argentina, 2022, installation view;
Mapa de la reencarnación

(

Reincarnation Map)

, 2021, gouache on canvas, 117 x 177 cm;
Híbridos (Hybrids)

, 2021, clay, variable dimensions;

 

 

 
"Anthropological investigation, scientific research, popular culture, fiction, image assembling, academic and intuitive knowledge, the unfolding of official and personal histories, the tension between objectivity and subjectivity are among the tools I use to build new networks of trans-historical associations between past and present occurrences."
- Adriana Bustos
These works belong to Bustos' Planisferio Celeste series. Each of these pieces centers around an idea; they are organized as diagrams with circular areas around a central celestial map of constellations. The drawings inside the circles are networks of references which despite not being always obviously related, together they create a new perspective about the chosen subject matter. The central celestial map displays a configuration of the stars as they appeared on the first night of the Christian era. The names of the stars and constellations have been replaced by words referencing the subject explored in the work, including theoretical and personal reflections associated with it, thus becoming a chart of sorts.
Historia de las cosas medicinales, refers to a book published in 1569, written by Spanish botanist and doctor Nicolás Monarde, who traveled along Columbus in some of his trips to the Americas. Monarde's aim was to investigate, gather and classify herbs and plants from the New Continent that could be used for medicinal purposes.
Vision Machine,

Galería Nora Fisch, 2018, installation view;
Planisferio Celeste, Territorio oficial

, 2018, watercolor and silver leaf on canvas, 180 x 180 cm
;
Venus Optical Eye

, 2018, wood and acrylic, 175 cm x 40 cm;

 

 

 

 

Burning Books is a series of hand-made bookcase-like pieces (actually each a group of shallow wooden shelves) which display the covers of books that have been censored, deliberately hidden from circulation or burnt at different times and places. These covers are carefully rendered by hand, laborious drawing being at the core of Bustos' practice, as a way to re-invest a different kind of energy on these battered images. One of the shelves in each "bookcase" displays photographs of actual instances of book-burning. Book censorship has become a pressing issue currently in the USA, as reported by the American Library Association.

 

 

 

 

 

 

As in many of Adriana Bustos' large pieces, these two works present a web of loosely associated people and events, in this case riffing on the birth of Miami as a tourist destination, tied to industrial development, economic interests, the displacement of indigenous tribes, the interaction with Cuba and other historical events. Together they knit a complex reflection on the birth and history of a city which today is a point of articulation between Latin and North America.

 

Bustos has exhibited her work extensively in over 80 shows, among them Unsettled Landscapes, Site Santa Fe, USA, 2014; the XII Istanbul Biennial; a solo exhibition at the Museum of Contemporary Art of Castilla and León (MUSAC), Spain in 2017 and at the Klemm Foundation, Buenos Aires in 2018; the Sharjah Biennial and, Pompidou Center, Paris, in 2019; Dhaka Art Summit, 2020. Her works are in the collections of Museum of Latin American Art of Buenos Aires (MALBA), Museum of Modern Art of Buenos Aires, Argentina; National Museum Centro de Arte Reina Sofía; ARCO IFEMA Foundation, Madrid, Spain; Museum of Contemporary Art of Medellín, Colombia; Museum of Contemporary Art of Lisbon, Portugal; Asiacity Foundation, Singapur; Casa di Rizparmo Foundation, Modena, Italy; Kadist Foundation, San Francisco, USA; Banco de la República, Bogota, Colombia, among other private and public collections.