Courtesy Galeria Marilia Razuk, São Paulo
Johanna Calle
Born in Bogotá, Colombia, 1965.
Lives and works in Bogotá, Colombia.
With a production at the same time delicate and forceful, Johanna Calle found in drawing and graphism a special way to reference problems and inconsistencies that permeate the Latin American society. Using different forms of writing as a starting point, Calle appropriates of manuscripts, letters,musical scores, mathematical arrays or shorthand techniques in a kind of permanent game between lines, words and signs. After studying at the Universidad de los Andes (1984-89) in Bogotá, Johanna Calle took a Masters course in Fine Arts at Chelsea College of Art, London (1992-93).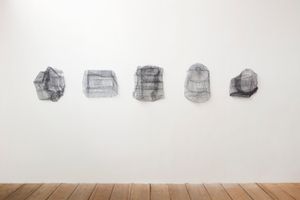 Courtesy Galeria Marilia Razuk
"All these layers of meanings, which refer in different aspects to the use of the land (legal, symbolic, social, religious), are, however, amalgamated in a work whose result is greater than the sum of its parts."
- Rodrigo Moura
Selected solo exhibitions include: Silentes, curadoria de Helena Tatay, Museu de Arte do Banco da Republica, Bogotá, Colômbia (2015); Krizinger Residencies, Krizinger Gallery, Vienna, Austria (2013); Variaciones políticas del trazo dibujos de Johanna Calle, Fundación TEOR/éTica, San José de Costa Rica (2008); Laconia, Galería Santa Fé, Planetario Distrital, Bogotá (2007); Zona Tórrida, Galería Casas Riegner, Bogotá (2006); Pretérita, Fundación Gilberto Alzate Avendaño, Bogotá (2006); and Tangencias, Sala ASAB, Academia Superior de Artes de Bogotá (2005).
Group exhibitions include: Trees, Fondation Cartier pour l'Art Contemporain, Paris, (2019); Sidney Biennial (2016); 31st. Sao Paulo Biennial (2014); Lines, curated by Rodrigo Moura, Hauser & Wirth (2014); Artists and War, North Dakota Museum of Art, Grand Forks, North Dakota (2009); Other flora, Galeria Nara Roesler, São Paulo (2008); Historia Natural y Política, Biblioteca Luis Ángel Arango, Bogotá (2008); Cartas sobre la mesa, Biblioteca Luis Ángel Arango, Bogotá (2008); DisPlaced, Contemporary Art from Colombia, Glynn Vivian Art Gallery, Swansea, Wales (2007); Bordes del dibujo, Museo de la Universidad Nacional, Bogotá, Colombia (2006); Contradicciones y convivencias, Biblioteca Luis Ángel Arango, Bogotá, Colombia (2005); Otras miradas, Museo Sofía Imber de Caracas (2004); De la représentation à l'action, Le Plateau, Paris (2002); Políticas de la diferencia. Arte iberoamericano de fin de siglo, a traveling exhibition organized by Generalitat Valenciana, Spain (2001).
Throughout her career, Calle has received a number of awards for her work, significant among which are: Emerging Artists Grants Program, Cisneros Fontanals Art Foundation CIFO, Miami (2008) and Mención de Honor IV Premio Luis Caballero (2007); Beca Cité International des Arts, Paris, AFFA Asociación Française des Affaires Etrangeres (2001); and Premio Salón Regional de Artistas, Ministerio de Cultura (2000), among others.
Courtesy Galeria Marilia Razuk