Hylton Nel,
Pop-up

, installation view, Guus Röell, Maastricht, 2022

 

 

 
Hylton Nel at Guus Röell Fine Art & Antiques in Maastricht
Over a week in Maastricht, Stevenson presents a pop-up exhibition of recent works by South African artist-potter Hylton Nel, taking place at Guus Röell Fine Art & Antiques. Our relationship with Röell predates the gallery by several years. Founder Michael Stevenson met the Dutch dealer in the late 1990s through a mutual interest in cross-cultural currents in colonial furniture; at around this time Roëll got acquainted with Nel's work.
When Stevenson opened a space in Amsterdam in 2020, we called on Röell to reintroduce ourselves. By then he had also expanded to Amsterdam, in the form of ZebregsRöell, a partnership with Dickie Zebregs with a beautiful store on the Keizersgracht, just a stone's throw away from our gallery.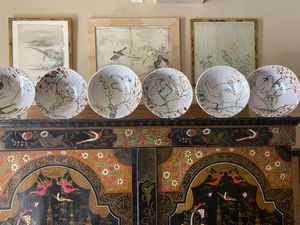 Describing elements of Nel's practice on the occasion of his 80th birthday exhibition at the Fine Art Society, London (2021), art historian Tamar Garb wrote:
Veering from the high-minded to the vulgar, from the celestial to the everyday, Nel populates his world in a radically democratic and unhierarchical way. There is no creature or word too trivial or banal to make its appearance on a plate or a pot. Figural referents range from Renaissance prototypes to lewd graffiti. Both seem equally rich and true. And the cats, curious, knowing and aloof, appear to look on, cyphers of wisdom and witness, themselves culled from history and clay. Not quite deities or fetishes – they are too funny and iconoclastic for that – they nevertheless appear quite separate from the world they survey. At once ornaments and oracles, pieces of high culture and kitsch, they scramble and destabilise our categories.
"The cat functions as both a curiosity and an ornament. Long used as a form for decorative sculpture and ceramic figurines, cats serve, for Nel, as "regular things", objects that enable him to squeeze his queer sensibility into a tradition that has a recognisable genealogy and lineage. At the same time they allow for a certain pointed and irreverent humour. This is not only to be found in the expressions and quirks of the cats. Sometimes it is worn as a slogan or text that cuts against the cuteness and kitsch (Nel revels in the dangerous flirtation with the sentimentality and sweetness that the cat bibelot inevitably invokes) and provides the space for a political or polemical assertion."
- Tamar Garb
Please visit hyltonnel.co.za to learn more about Hylton Nel.