Waxhotyiswa engekakhawulwa

, 2017, Leather, wood, steel, skull and ribbons, 100 x 260 x 140 cm

 

 

 
Nicholas Holobo
Yongamela Ubumnyama
Goodman Gallery Johannesburg
On view until 10 November
Yongamela Ubumnyama marks Nicholas Hlobo's first exhibition with Goodman Gallery, featuring new work that explores a shift from minimal use of acrylic paint to a less inhibited approach, incorporating the unwieldy medium with signature materials ribbon and canvas.
Hlobo is known for creating hybrid objects, intricately weaving ribbon and leather into crisply primed canvas alongside wood and rubber detritus. Each material holds charged associations with cultural, gendered, sexual and national identity, creating a complex visual narrative that references ideas around postapartheid nationhood and bodily healing.
Using the metaphor of himself as a surgeon, Hlobo treats the canvas like a physical being, ready to be cut open and sewn up at his discretion. For this latest series, Hlobo embraces acrylic paint as a primary material in his toolbox, continuing to sculpt the canvas with multicoloured stitching but alongside bold streaks of paint.
Guided by the subconscious, Hlobo allows the kaleidoscopic gradients of paint to conjure abstract figurative renderings on the canvas. His tactile manipulation of the canvas itself produces protruding structural forms suggestive of topographical models. In between these structures are vibrant, energetic, gestural strokes of paint that contrast with the meticulously woven ribbon.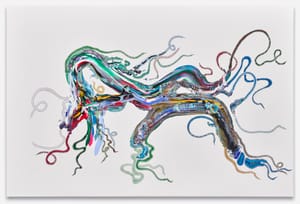 Nicholas Hlobo,
Khulukazi

, 2022, Acrylics paint and ribbons on Belgium linen canvas, Work: 120 x 180 cm

 

 

This approach to making work came about during the pandemic, when the artist spent very long hours alone in the studio. Yongamela Ubumnyama explores the surprising positive feelings that can come from dwelling in darkness - literally and metaphorically.

 

The delicate but taute binding of the canvas with ribbon is combined with a comparatively loose approach to the dragging of paint across the surface - a contrasting approach to materiality that creates a powerful tension within the work. This distinct visual language of clean, white canvas punctuated by ribbon-mending incisions alongside areas of ephemeral dangling material further heightens this contrast. For the artist, the tension in the work speaks to the pain of introspection but also to ways of building anew and finding joy.

 

 
Nicholas Hlobo (b. 1975, Cape Town, South Africa) began his career around the end of apartheid in 1994, when there was a new sense of freedom and national pride in South Africa. With the eradication of legalised and enforced discrimination and segregation, Hlobo and his peers were empowered to openly voice their opinions and ideas under the protection of these new laws. Hlobo's subtle commentary on the democratic realities of his home country and concerns with the changing international discourse of art remain at the core of his work. Using tactile materials such as ribbon, leather, wood, and rubber detritus that he melds and weaves together, Hlobo creates intricate two- and three-dimensional hybrid objects. Each material holds a particular association with cultural, gendered, sexual, or ethnic identity. Together, the works create a complex visual narrative that reflects the cultural dichotomies of Hlobo's native South Africa as well as those that exist around the world. His evocative, anthropomorphic imagery and metaphorically charged materials elucidate the artist's own multifaceted identity within the context of his South African heritage.
Hlobo received a fine art degree from Johannesburg's Technikon Witwatersrand in 2002. Solo exhibitions of his work have been organized at the Savannah College of Art and Design (SCAD) Museum of Art in Savannah, GA (2019); Uppsala Art Museum, Sweden (2017); Museum Beelden aan Zee, The Hague, Netherlands (2016); Locust Project, Miami (2013); National Museum of Art, Architecture and Design, Oslo (2011); Savannah College of Art and Design, Lacoste, France (2010); Tate Modern, London (2008); Institute of Contemporary Art, Boston (2008); and SCAD Museum of Art, GA (2007). Select group exhibitions featuring his work include Delirious, Lustwarande Foundation, Tilburg, The Netherlands (2019); Kiss My Genders, Hayward Gallery, London, United Kingdom (2019); Material Insanity, Museum of African Contemporary Art Al Maaden (MACAAL), Marrakesh, Morocco (2019); Face to Face: From Yesterday to Today, Non-Western Art and Picasso, The Montreal Museum of Fine Arts, Montreal, Canada (2018); After the Thrill is Gone: Fashion, Politics, and Culture in Contemporary South African Art, The Museum of the African Diaspora, San Francisco, CA (2018); Art/Afrique, le nouvel atelier, Fondation Louis Vuitton (2017); Energy and Process, Tate Modern, London (2016); The Divine Comedy: Heaven, Purgatory and Hell Revisited by Contemporary African Artists, Museum für Moderne Kunst, Frankfurt, traveled to SCAD Museum of Art, GA (2014); and Smithsonian National Museum of African Art, Washington, DC (2015); A History (art architecture design, from the 80s to now), Centre Pompidou, Paris (2015); Intense Proximity, La Triennale 2012, Palais de Tokyo, Paris (2012); and Flow, Studio Museum in Harlem, New York (2008). Hlobo has participated in multiple biennials including the 18th Biennale of Sydney, Australia (2012); the 54th Venice Biennale (2011); the 6th Liverpool Biennial (2010); and the 3rd Guangzhou Triennial, China (2008). His work is included in numerous international public and private collections, including the Arquipelago – Centro de Artes Contemporaneas, Azores, Portugal; Centre Pompidou, Paris, France; Detroit Institute of Arts, Detroit, MI; Fondation Louis Vuitton, Paris, France; Savannah College of Art and Design (SCAD) Museum of Art, Savannah, GA; The Metropolitan Museum of Art, New York, NY; The Nelson Mandela Metropolitan Art Museum, Port Elizabeth, South Africa; South African National Art Gallery, Cape Town; Tate Modern, London, United Kingdom; Unisa – University of South Africa, Pretoria, South Africa; and the Zeitz Museum of Contemporary African Art, Cape Town, South Africa.
Hlobo has received numerous honors and distinctions such as the Rolex Visual Arts Protégé (2010-11); Standard Bank Young Artist Award (2009); and the Tollman Award for Visual Art (2006).
The artist lives and works in Johannesburg.