Installation shot of The Armory Show, New York, 2022
"We are part of the earth and the earth is definitely a part of each of us."
Souad Abdelrassoul's artistic practice spans various media; drawing, painting, sculpture and graphic design. Working between the abstract and figurative, she intertwines human and animal figures, believing we are all intrinsically connected to the earth. Her metamorphosed figures repel the typical standards of what society perceives as beautiful, instead she focuses on the connections between the human race and the natural elements of life; earth, animals and plants. Tree-like figures with branching veins and arteries and giant insect-like creatures merge on her canvases to remind the viewer of the vital bond between our internal lives and the exterior world we live in.
Image rights: Courtesy of Circle Art Gallery; from her solo exhibition,
Behind The River

at Circle Art Gallery.

 

 

 
"I am a woman who lives in a society where several rights are taken away from her."
Video: Courtesy of Circle Art Gallery
Abdelrassoul graduated with a BFA in 1998 from El Minya University and completed her master's degree in History of Art in 2005. In 2012 she completed her PhD in Modern Art History. Using her vast knowledge and academia, Souad explores the idea of the modern woman, exalting in the feminine and the emotional. Adopting a surrealist touch her paintings are symbolic of her own personal experiences of being a woman in a patriarchal society. Many of her motif's address these issues, whilst also making reference to famous artists and practices that she admires. As a mother herself, she draws attention to how women are forced to evolve and adapt in an oppressive environment. Often using familiar myths and legends, she paints stories through her figures which question the role women have in society and cultural history in a disruptive and thought-provoking way. By reconceptualizing the way we perceive space, she re-purposes notions of form, science and nature into something strikingly personal.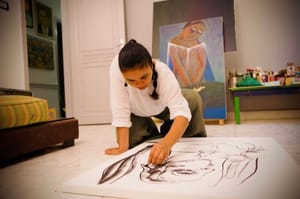 Souad in her studio in Cairo.
Since 1998 she has exhibited frequently in group and solo exhibitions in Cairo as well as shows in Nairobi, Beirut and the USA. She has also exhibited at international art fairs in London, New York and Marrakech. In 2022, Souad Abdelrassoul's The Magician (2021), was acquired by the Chazen Museum of Art at the University of Wisconsin-Madison in the USA. She is also featured in Phaidon's publication of 300 Women Artists, 2022.