Feeding the Cockatoo

, 2009, oil on canvas, 48 x 56 in. Images courtesy of the artist's studio.

 

 

 
KYLE STAVER
Kyle Staver is an American painter who also works in relief sculpture, drawing, and etching. Engaging with canonical Western mythological and folkloric traditions, Staver finds her inspiration in sources ranging from the Bible to ancient Greek oral-poetic traditions.
Staver captures critical moments within these narratives in her fastidiously refined color palettes, identifiable for their stark highlights and rich use of darker tones which blanket figures and their environments in shadow. Despite working with stories that have been re-told throughout centuries, Staver cultivates an enigmatic atmosphere within her paintings—both formally and narratively. As Dan Nadel put it in Artforum: "Her sources are the urtexts of patriarchy, but Staver often flips the script" to offer intelligent re-workings of gender dynamics enshrined in ancient archetypes. The paintings therefore traffic in a kind of narrative uncanny, as the stories to which they refer are simultaneously familiar and new or unsettling.
Before starting a painting, Staver thinks through which images in a given narrative are most captivating, and works on preparatory drawings and reliefs. Beginning with ink, watercolor, and pencil drawings, Staver finds the ideal tonal scale and composition suited to her interpretation of the original text. Her three-dimensional reliefs, in turn, offer a physicality that further helps the artist immerse herself in the world of her paintings. Staver's focus on repetition and cross-mediality reflects the discursive nature of her source narratives, as stories that have been re-told throughout centuries.
Kyle Staver
Death and the Maiden

, 2020
Oil on canvas
70 x 50 in
Kyle Staver
Study for the fall

, 2022
Fired Clay
11 x 9 x 4 in
"I am first and foremost a storyteller. Making paintings has always been my means of connecting to the world. If I begin my painting with a story or a myth that the viewer is familiar with, we are connected and invested from the first moment. When I change or tweak a story, it is hard to miss, and the viewer is put on alert. There is so much expressive opportunity in the space between what is expected and what is actually there […] Allowing the painting to slip its moorings, without completely losing sight of the mothership, is when painting is the most thrilling for me."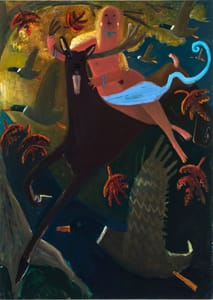 Kyle Staver
Fall

, 2020
Oil on canvas
70 x 50 in
Kyle Staver
Pandora

, 2014
Oil on canvas
68 x 58 in
Kyle Staver
Jonah and the Whale

, 2014
Oil on canvas
68 x 52 in
Kyle Staver
Syrinx

, 2013
Oil on canvas
68 x 52 in
Kyle Staver (b. 1953, Virginia, MN, lives and works in New York) earned her BFA from Minneapolis College of Art and Design and her MFA from Yale University. In 2015, she was awarded the John Simon Guggenheim Memorial Foundation Fellowship and the American Academy of Arts and Letters Purchase Prize. She has had solo exhibitions at Half Gallery, New York; Zürcher Gallery, New York; Galerie RX, Paris; Steven Harvey Fine Art Projects, New York; among many others. Her work is in the collections of the National Academy of Design (New York), The American Academy of Arts and Letters (New York), The National Arts Club (New York), The McEvoy Foundation (San Francisco), and Portland Community College (Portland, Oregon). Staver is also recognized as a distinguished member of the National Academy of New York.
Staver will have a solo exhibition at Nino Mier Gallery, Brussels in early 2023.
Kyle Staver
Erin's Archer

, 2022
Oil on canvas
70 x 58 in
Kyle Staver
Expulsion

, 2017
Oil on canvas
64 x 55 in
Kyle Staver
David and Goliath

, 2016
Oil on canvas
68 x 52 in
Kyle Staver
Swan Flight

, 2017
Oil on canvas
68 x 54 in
Selected Press and CV.pdf
1.24 MB