Exhibition view of
Rota do Algodão

. The Octagon, Pinacoteca de São Paulo, 2022. Credits Isabella Matheus.

 

 

 
"I have been developing historical and theoretical research through painting for a long time. It arises from the desire to investigate the economic exploitation roads of colonial Brazil: tobacco, cotton, coffee, gold. This research is, above all, poetic, a narrative constructed from fabulation."
Exhibition view of
Rota do Algodão

. The Octagon, Pinacoteca de São Paulo, 2022. Credits Isabella Matheus.

 

 

Upon the invitation to develop a new project for the Octagon, Dalton Paula (Brasília, 1982) carried out research on cotton planting and its economics, as well as its cultural and medicinal importance in the United States and Brazil. Traveling along the Mississippi (Louisiana) and Itapecuru (Maranhão) rivers, Dalton accessed several layers of the history of the cotton trade's rise and abandonment, the exploitation of enslaved workers on the respective farms and the failure of an entire industry in the riverside and coastal regions at the end of the 19th century. Today Brazil is the world leader in the production of sustainable cotton, mainly from the state of Goiás, where the artist resides.

 

The installation consists of eight sets of popular wooden and leather stools, grouped and decorated as improvised altars on which several bottles, jugs and barrels, covered in cotton canvas, are laid. On these objects, images and motifs that evoke complex stories of the "cotton road" are painted. Among them, we find views of landscapes marked by the cultivation and processing of the so-called "white gold", views of large warehouses and ships, of processing tools and machines, of invisible bodies, of objects and acts of political and spiritual resistance. In both Brazil and the United States, knowledge about the therapeutic properties of cotton was maintained in quilombos and Afro-descendant communities, and it was in these very spaces that diverse and unique cultural movements were born.

 

In Rota do Algodão (Cotton Road), Dalton Paula creates a synthesis of elements found, resignified and transformed into three-dimensional paintings. The stool is a central object in African-based religions, as is the arrangement of bottles of different scales and shapes. Their coating also makes reference to the moorings in the Vodum culture. Dalton describes his artistic production as an "archaeological document, seeking a cure for so many symbolic deaths within power struggles".

 

– Jochen Volz, General Director, Pinacoteca de São Paulo

 

 
Rota do Algodão

, 2022, installation of oil on cotton, glass, stool, pins, variable dimensions. Credits Isabella Rufatto and Paulo Rezende

 

 

The installation comprises eight altars composed of sets of stools that are very common in the rural daily life of the Brazilian Midwest. In different sizes, the stools are wrapped in a white cotton fabric with various embroidery, laces, friezes, shades, transparencies, and opacities. The images the artist collects in his research appear, painted on oil, on bottles and pots covered with white fabric, and placed on top of the stools. Formally, the painting explores white on white, maintaining the symbolic and pictorial aspect of the materiality that permeates the work. Exhibition view credits Isabella Matheus, bottles photo credits Paulo Rezende.

 

 

 
"In this ebb and flow of the African diaspora in the Americas, music plays a very important role. It is one of the elements that allows culture to survive, to reorganize itself, helping people to keep the flame of resistance burning."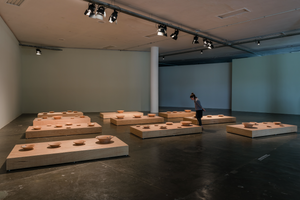 Exhibition view of 'Rota do Tabaco' (2016), at 32˚ Bienal de São Paulo. credits Paulo Rezende.
Dalton Paula (Brasília, 1982) works with painting, drawing, video, performance, and installation. The central subject of his research is the black body in diaspora, its rites, rituals and stories. In Rota do Algodão, Dalton unfolds his investigation of the Black Atlantic and its rich symbolic language, as his third major project after the one that gave rise to the work Rota do Tabaco (Tobacco Road) (2016) and the research on the "gold road", that resulted in the works Bamburrô (2019) and "O Anhanguera" (2019). His work integrates important collections such as that of the Museum of Modern Art (MoMA), New York City; Pinacoteca de São Paulo, and Museu de Arte de São Paulo (MASP). Selected group shows: Afro-Atlantic Histories, National Gallery of Art (Washington D.C., 2022), Museum of Fine Arts (Houston, 2021), Los Angeles County Museum of Art (2021), Dallas Museum of Art (2021), Museu de Arte de São Paulo (2018), curated by Adriano Pedrosa, Ayrson Heráclito, Hélio Menezes, Lilia Moritz Schwarcz, and Tomás Toledo; Change Is Modern, Fall Reveal, Museum of Modern Art (New York City, 2021); 36th Panorama da Arte Brasileira: Sertão, Museu de Arte Moderna (São Paulo, 2019), curated by Júlia Rebouças; the New Museum Triennale: Songs for Sabotage (New York, 2018), curated by Gary Carrion-Murayari and Alex Gartenfeld; 32nd Bienal de São Paulo: Live Uncertainty (2016), curated by Jochen Volz. Selected solo shows: Dalton Paula: Retratos brasileiros, Museu de Arte de São Paulo (2022), curated by Adriano Pedrosa, Glaucea Helena de Britto and Lilia Moritz Schwarcz; Dalton Paula: A Kidnapper of Souls, Alexander and Bonin Gallery (New York City, 2020); Dalton Paula: entre a prosa e a poesia, Sé galeria (São Paulo, 2019). Dalton holds a B.A. in visual arts from Universidade Federal de Goiás (UFG). He lives and works in Goiânia, Brazil.
rotadoalgodao_.pdf
11.77 MB