Ellen Lesperance, installation view of
The Land of Feminiye

at Derek Eller Gallery, 2022

 

 

 
Ellen Lesperance
Ellen Lesperance's work explores the intersection of craft, feminism, and civil disobedience. Speaking at once to the current moment, the future, and the historical past, Lesperance mines history to uncover narratives about courageous, ideological women: activists, warriors, outliers. Inspired by archival images and ancient depictions of garments worn by women involved in acts of empowerment, Lesperance makes gouache paintings based on knitwear patterns, as well as hand-knit garments and terracotta sculpture.
Based on her meticulous research of the Greenham Common Women's Peace Camp, a group of women activists who protested nuclear proliferation in the 1980s and 90s in the U.K., Lesperance has uncovered extensive visual documentation picturing protestors wearing knitted clothing embedded with text and pattern reflective of subversive self expression. She translates the garments within this source material into knitting patterns in Symbolcraft, rendered as layered abstract gouache paintings. Each painting requires improvisation, deviation from the pictured garments, because of the ambiguous and often incomplete imagery being used. As such, the paintings function as the artist's interpretive portrait of the wearer rather than simply a historical documentation of clothing.
Ellen Lesperance
Iris' Web

, 2020
gouache and graphite on tea stained paper
41.45 x 29.5 inches;
Source Image taken at Greenham Common Women's Peace Camp, Berkshire, England, circa 1980s
Lesperance also explores the distinctive clothing of the Amazons, a nation of all-female warriors whose battles were chronicled in Greek mythology and depicted in art from the 4th century BCE, particularly red-figure pottery.
Amazonomachy — battle scenes between the Ancient Greeks and Amazons— portray the Amazons clothed in heavily-patterned leggings, tunics, skirts, and pelts, emblazoned with repeated imagery including animals, evil eyes, zigzags, stripes, and polka-dots. Lesperance translates the garments within this source material into knitting patterns in Symbolcraft, rendered as layered abstract gouache paintings. The paintings are executed in palettes to match naturally-dyed yarns which might have been used in ancient times: red-browns, yellows, and pinks from organic material like madder root, oak leaves, wild chervil, tansy, and ferns as well as the undyed black/brown yarn of the ancient Hebridean sheep.
Ellen Lesperance
The Land of Feminye, Fair Isle

, 2022
gouache and graphite on tea-stained paper
39.5 x 30 inches; sweater of undyed Hebridean wool and wool dyed with madder root, wild chervil, nettle, and bramble leaf hand-knit by the artist; source image from Ancient Greek Pottery
Paintings, rendered on a rich black ground, picture clothing worn specifically by slain Amazon women. This ground is, in fact, a tea-stained cyanotype photograph of a flower bouquet gathered on a day of mourning, and these works are intended as somber memorials to women's recent losses: the day Roe vs Wade was overturned, the day Yelena Grigoryeva was murdered, and the day Sandra Bland would have turned 35.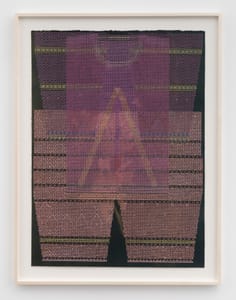 Wounded Amazon (Roe Falls); Wounded Amazon (for Yelena Grigoryeva); Wounded Amazon (Sandra Bland 02/07/22)

all gouache and graphite on tea-stained cyanotype on paper

 

 

Lesperance addresses the present in her terracotta ceramics inspired by Greek tanagra figurines from 300-400 BCE. Tanagras were secular depictions of young females, painted and clothed in fabrics; they were often buried alongside women and girls. Lesperance has used the same vented press-mold technique of antiquity to make her ceramics and has painted and clothed them using compost-dyed silks or hand-knit material with naturally dyed yarn. Her subjects include Amazons alongside contemporary era women like Russian activists, prisoners, Pipilotti Rist, and Beyoncé.

 

 
Amazon with Packed Wound; Pussy Riot 2012
Ellen Lesperance (b.1971) lives and works in Portland, Oregon. She had recent solo exhibitions entitled Amazonknights at ICA Miami and Velvet Fist at the Baltimore Museum of Art, and has been included in group shows at The Brooklyn Museum, The Museum of Fine Arts Houston, The Frye Museum Seattle, ICA Boston, Bonniers Konsthall Stockholm, The New Museum of Contemporary Art New York, and KAI 10 | ARTHENA FOUNDATION, Düsseldorf. Lesperance received a 2022-23 Global Scholar Fulbright Award and a 2020 Guggenheim Fellowship.
Selected Ellen Lesperance Press for Download:
Ellen Lesperance_Ocula_2022.pdf
17.19 MB
EllenLesperance_BOMB_2021_EDITED.pdf
237.15 kB
EL_NYT_092018.pdf
827.46 kB
EL_BKRail_0320.pdf
704.37 kB
EL_Artforum_1218.pdf
14.21 MB